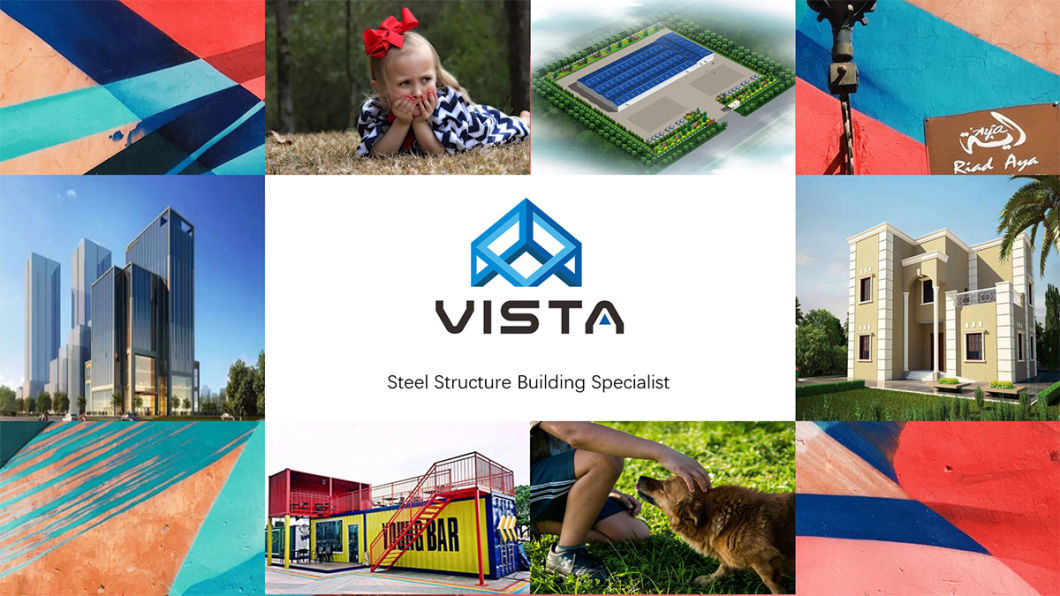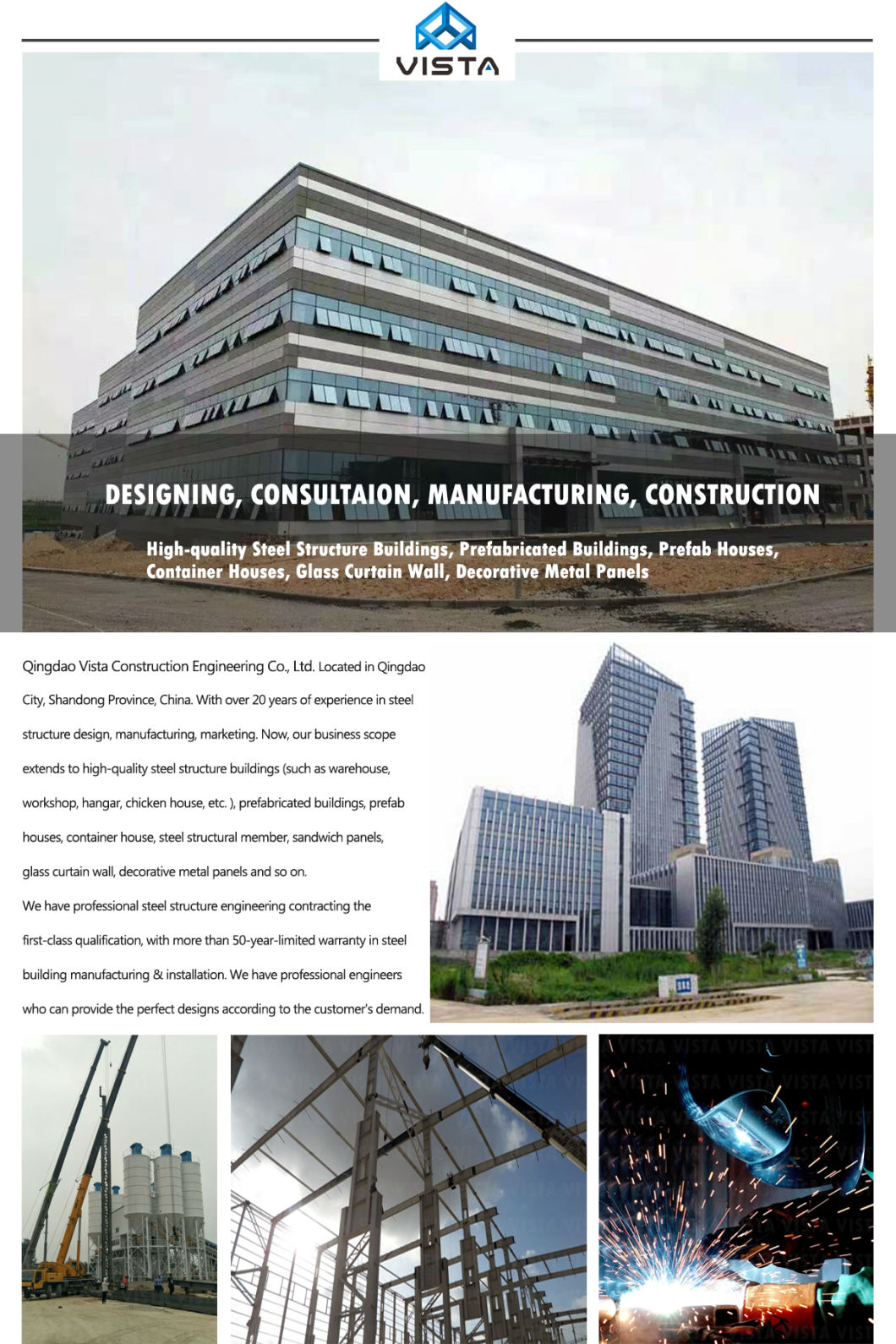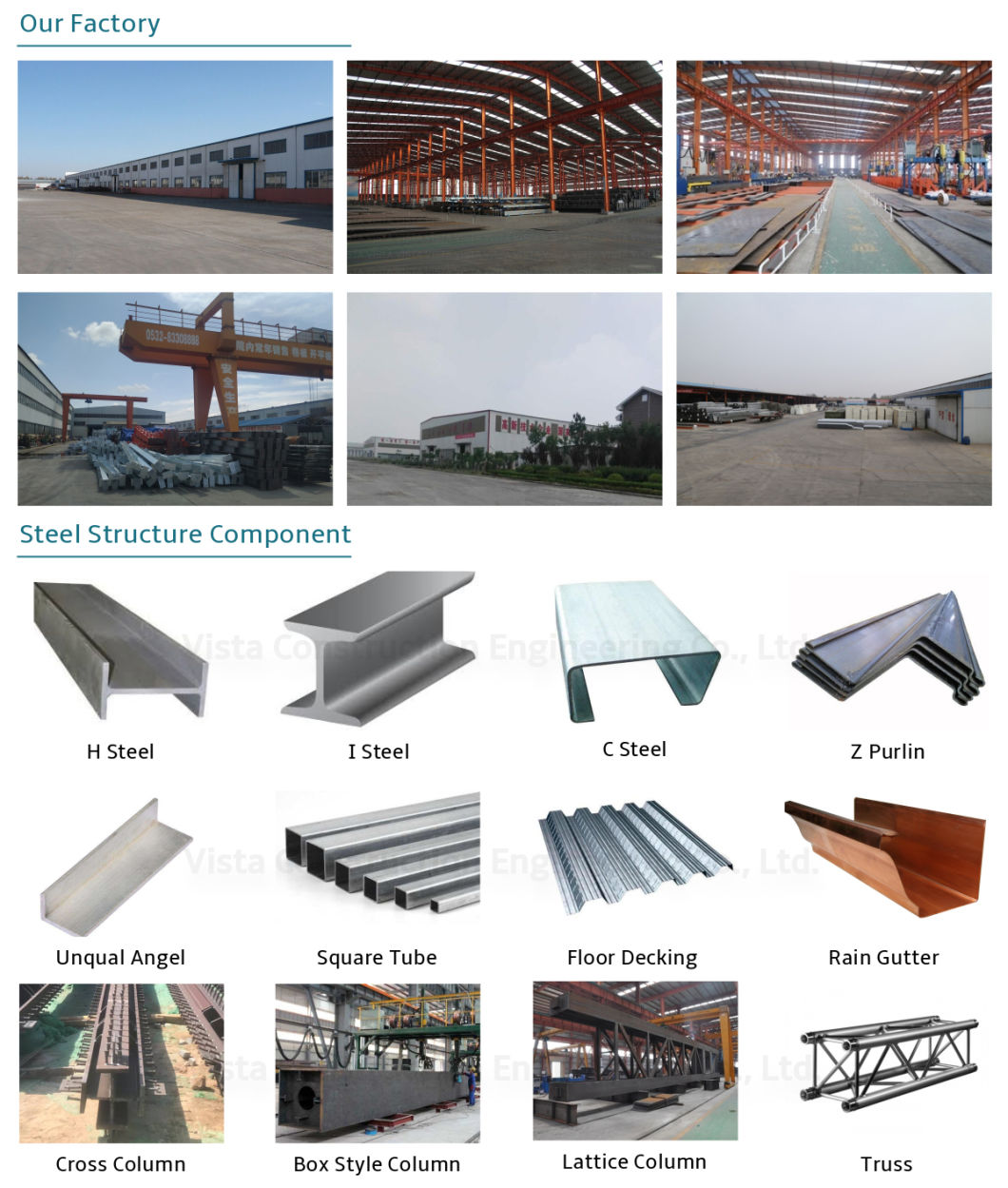 1. Specification
VISTA- Product Specifications Of Steel Structure Project
No
Item
Specification
1. Main Steel System

1

Main Steel Frame

Q345, 3 Painting Coatings, (2 Red Lead Anti-Rust Coatings, 1 Grey Surface Coating)

2

Foundation Bolts

Q235, M24

2. Various Supports

1

Roof Purlins

Q235, Galvanization

2

Wall Purlins

Q235, Galvanization

3

Various Supports

Q235, 3 Painting Coatings, (2 Red Lead Anti-Rust Coatings, 1 Grey Surface Coating)

4

Struts

Q235, Ф20, 3 Painting Coatings, (2 Red Lead Anti-Rust Coatings, 1 Grey Surface Coating)

5

Stairs

Q235, 3 Painting Coatings, (2 Red Lead Anti-Rust Coatings, 1 Grey Surface Coating)

6

Edge Formworks

7

Square Tubes

Q235

8

Floor Deck

1.0mm Thickness, 688 Model

3. Roof System

1

Roof Panel

0.4mm Thickness, 820 Model

2

Roof Insulation Cotton

50mm Thickness, Glass Wool

3

Flooding Board

0.4mm Thickness, Color Steel Plate

4

Standard Parts

Fixed Seat, Roof Self-Tapping Screw, Roof Rivet, Sealant, Gutter etc.

4. Wall System

1

Wall Panel

0.4mm Thickness, 900 Model

2

Wall Insulation Cotton

50mm Thickness, Glass Wool

3

Flooding Board

0.4mm Thickness, Color Steel Plate

4

Standard Parts

Wall Self-Tapping Screw, Wall Rivet, Sealant

6

Composite Board Doors

5. Fasteners

1

High Strength Bolts

M20

2

Ordinary Bolts

M12

3

Ordinary Nuts

M12

4

Pegs

M16

Note

All Parts Support Customization
Items

Specification

Main Steel Frame

Column

Q235, Q345 Welded H Section Steel

Beam

Q235, Q345 Welded H Section Steel

Secondary Frame

Purlin

Q235 C And Z Purlin

Knee Brace

Q235 Angle Steel

Tie Rod

Q235 Circular Steel Pipe

Brace

Q235 Round Bar

Vertical And Horizontal Support

Q235 Angle Steel, Round Bar Or Steel Pipe

Maintenance System

Roof Panel

EPS Sandwich Panel / Glass Fiber Sandwich Panel /




Rock Wool Sandwich Panel / PU Sandwich Panel /Steel Sheet

Wall Panel

Sandwich Panel / Corrugated Steel Sheet

Accessories

Window

Aluminum Alloy Window / PVC Window / Sandwich Panel Window

Door

Sliding Sandwich Panel Door / Rolling Metal Door / Personal Door

Rainspout

PVC

Live Load On Roof

In 120kg/Sqm (Color Steel Panel Surrounded)

Wind Resistance Grade

12 Grades

Earthquake-Resistance

8 Grades

Structure Usage

Up To 50 Years

Finishing Options

The Vast Array Of Colors And Textures Available

Paint Options

Alkyd Painting, Two Primary Painting, Two Finish Painting




(Gray Paint, Red Paint, White Paint, Epoxy Zinc, etc. ) Or Galvanized.
2. Detailed Description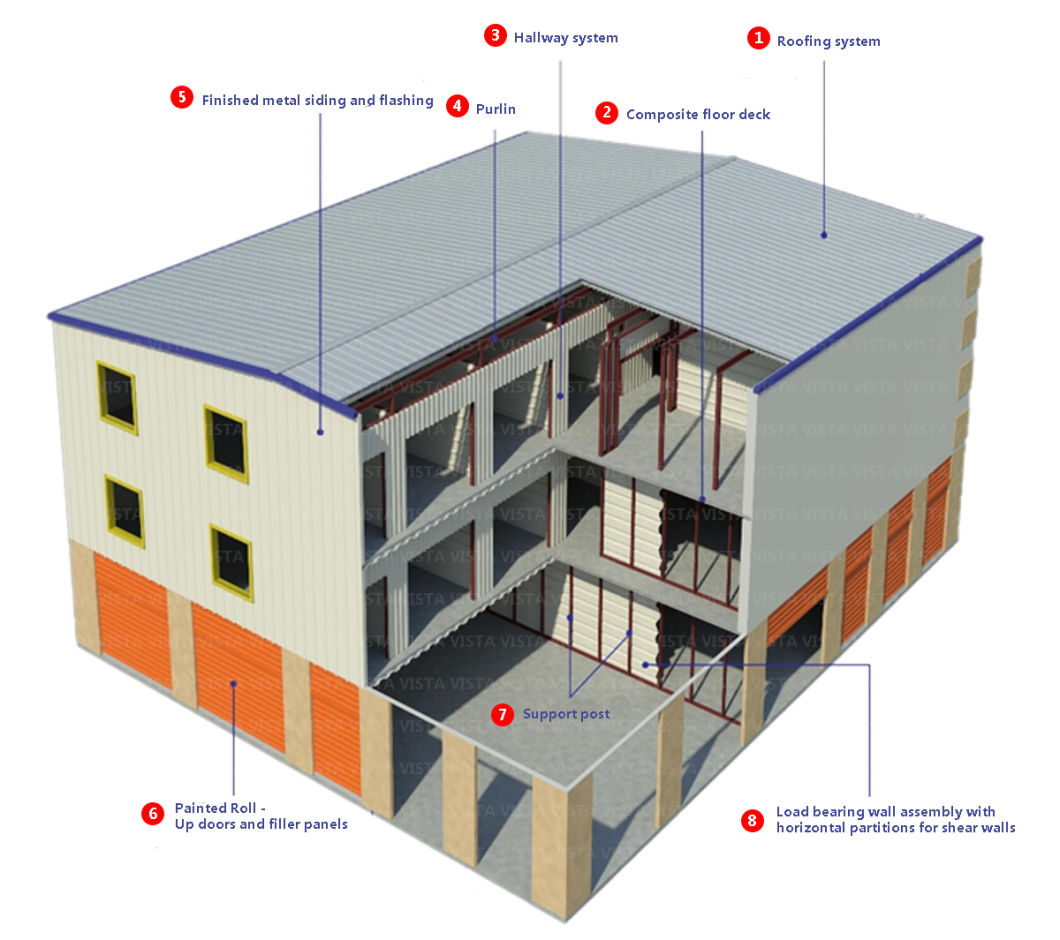 1 - Roofing System:
It Blocks Rain, Snow, And Wind. Ensure A Comfortable And Dry Working Environment In The Workshop/Warehouse.

2 -
Composite Floor Deck:
A Two-Story Or Multi-Story Building, Which Is Poured On The Floor Slab To Serve As A Formwork. Save Time And Improve Construction Progress.

3 -
Hallway System: We Can Provide Various Wall Partitions Of Different Materials.

4 - Purlin:
Support The Roof Sheeting And The Fixed Position Of The Roof Sheeting.
5 - Finished Metal Siding And Flashing: Roof And Wall Are Covering Of Color-Coated Corrugated Steel Sheet Or Steel Sandwich Panel, Hot Dipped With Zinc And Aluminum Compound, That Is Fixed To The Outside Of The Structural Building To Protect It Against Bad Weather Or To Make It Look More Attractive And Last For Generations.

6 - Painted Roll - Up Doors And Filler Panels: Easy Access. According To Customer Requirements, There Are Composite Panel Doors, Electric Shutter Doors And So On.

7 - Support Post: Supporting Building.

8 - Load Bearing Wall Assembly With Horizontal Partitions For Shear Walls: Supporting Building.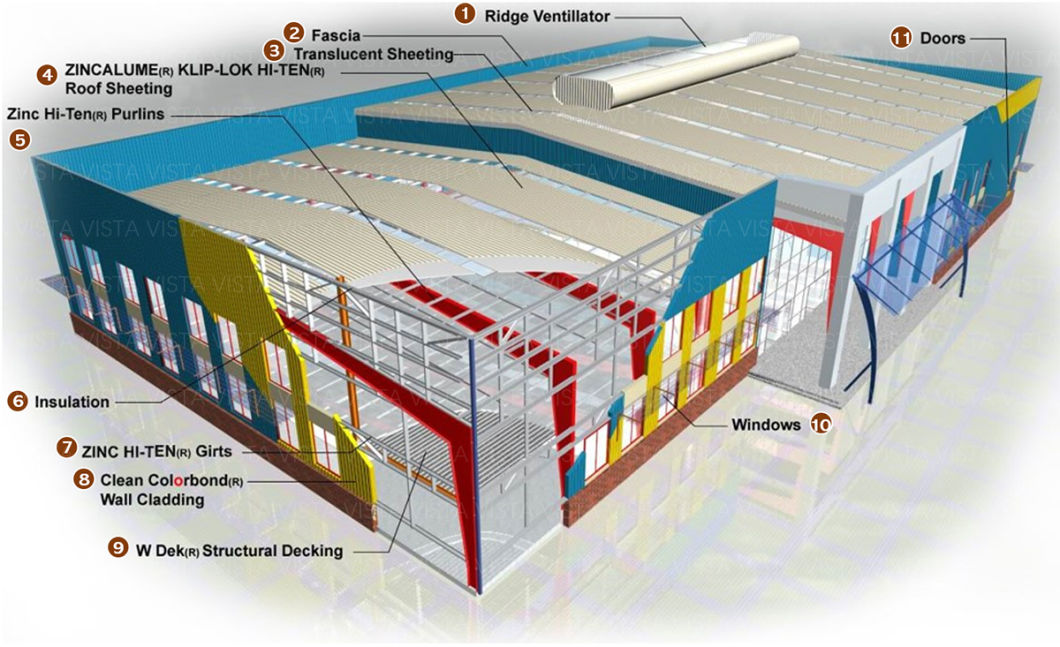 1 - Ridge Ventilator
: It is mostly used in machine shops because the exhaust gas generated in the machine shop is more likely to pollute the environment. The ridge ventilator can carry out the circulation of air very well.
2 - Fascia
: It can prevent people from falling off the roof, play the role of waterproofing the roof, and decorate the facade of the building.
3 - Translucent Sheeting
: Increase the light transmittance to make the indoor light transmittance meet the specification requirements.
4 - Roof Sheeting
: It blocks rain, snow, and wind. Ensure a comfortable and dry working environment in the workshop/warehouse.
5 - Purlins
: Support the roof sheeting and the fixed position of the roof sheeting.
6 - Insulation
: Insulate, keep the indoor temperature.
7 - Girts
: Support wall panel, fixed position of the wall panel.
8 - Clean Colorbond Wall Cladding
: Roof and Wall are covering of color-coated corrugated steel sheet or steel sandwich panel, hot dipped with zinc and aluminum compound, that is fixed to the outside of the structural building to protect it against bad weather or to make it look more attractive and last for generations.
9 - Floor Decking
: A two-story or multi-story building, which is poured on the floor slab to serve as a formwork. Save time and improve construction progress.
10 - Windows
: Increase light transmittance. According to customer requirements, there are plastic steel windows, aluminum alloy windows, etc.
11 - Doors
: Easy access. According to customer requirements, there are composite panel doors, electric shutter doors and so on.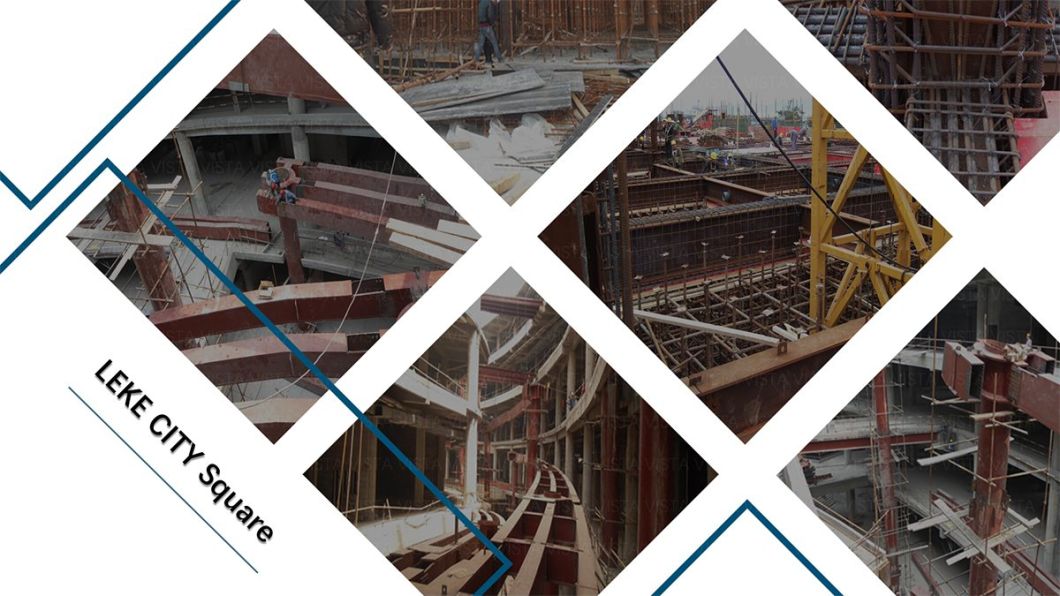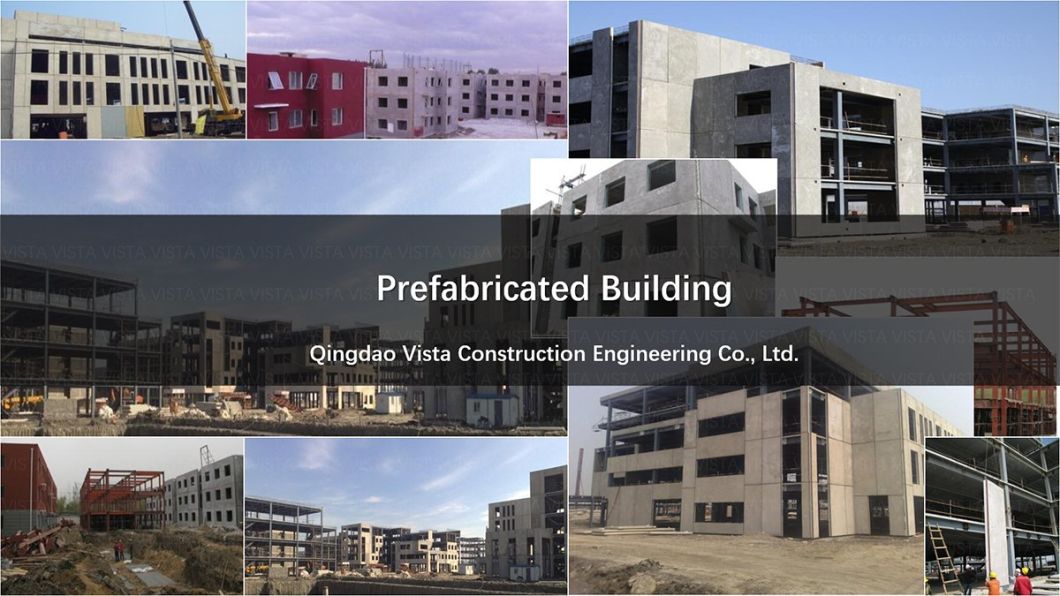 (1) Why Choose Steel Structure

Steel Was A Stand By Material For A Long Time In The Architectural Framework, But When It Is Recognized For Its Natural Beauty And Structural Integrity, The Result Can Be Inspiring. Master Architects Such As Zaha Hadid, Frank O Gehry, And Moshe Safdie Have Challenged The Idea Of Using Only Steel To Construct A Skeleton Of The Building And Create Innovative And Surprising Fluid Structures. Many Modern Architects Are Experimenting With The Aesthetic Of Steel From Rust Texture To Polishing For A High Shine Finish.
Basically Here, The Buildings Are Made Up Of Steel Frameworks Which Support All The Loads Where Columns, Beams, And Girders Are Made Up Of Steel Sections. They Are Flexible, Which Makes Them Very Good At Resisting Dynamic (Changing) Forces Such As Wind Or Earthquake Forces.
(2) Generally, Steel Structures Are Used Because Of The Following Characteristics
High Strength And Stiffness Per Weight
Long Spans (i. e. Large Column-Free Area Span)
More Accurate Detailing
Non-Shrinking And Non-Creeping At Ambient Temperature
Ease Of Fabrication And Mass Production Including Production And Hence Better Quality Control
Substantial Elimination Of Delays Due To Weather
No Formwork Needed
Termite And Rot Proof
Uniform Quality
The Economy In Transportation And Handling
(3) Advantages Of Using Steel In Building Structures
01. Adaptability:
Steel Can Be Adjusted And Changed According To The Designer's Requirements. The Frame Which Is Made From Steel Can Be Repositioned. For Example; Wall Frames Made From The Steel Can Be Altered Easily To Widen Space And Create A New Interior Layout Of The Building. At The Same Time, It Helps To Extend The Lifespan Of The Structure.
02. Beauty:
It Gives A Freedom To Explore Ideas To Create Stylish Shapes And Textures Of The Building. It Offers A Stylish Way To Create Large, Column-Free Interiors, That Give The Building A Sense Of Openness.
03. Cost-Effective:
It Is Lightweight When Compared With Timber And RCC And Also Easier To Transport, Reduces Fuel Cost And Accelerates Project Schedules. Also, It Is Energy Efficient And Can Be Recycled, And Create Minimum Raw Material Waste.
04. Ductility:
It Can Be Rolled, Cut And Turned Into A Variety Of Sizes And Shapes Without Changing The Composition Or Physical Property Through Steel.
05. Durability:
It Withstands Extreme Forces And Weather Conditions Such As Strong Wind, Earthquakes, And Heavy Snow. They Are Not Affected By Bugs, Termites, Fungi, etc. They Are More Fire-Resistant As Compared With Wooden Frames.
Using Steel In Residential, Commercial Or Industrial Structures Is Definitely A Worthy Investment.
(4) Drawings Display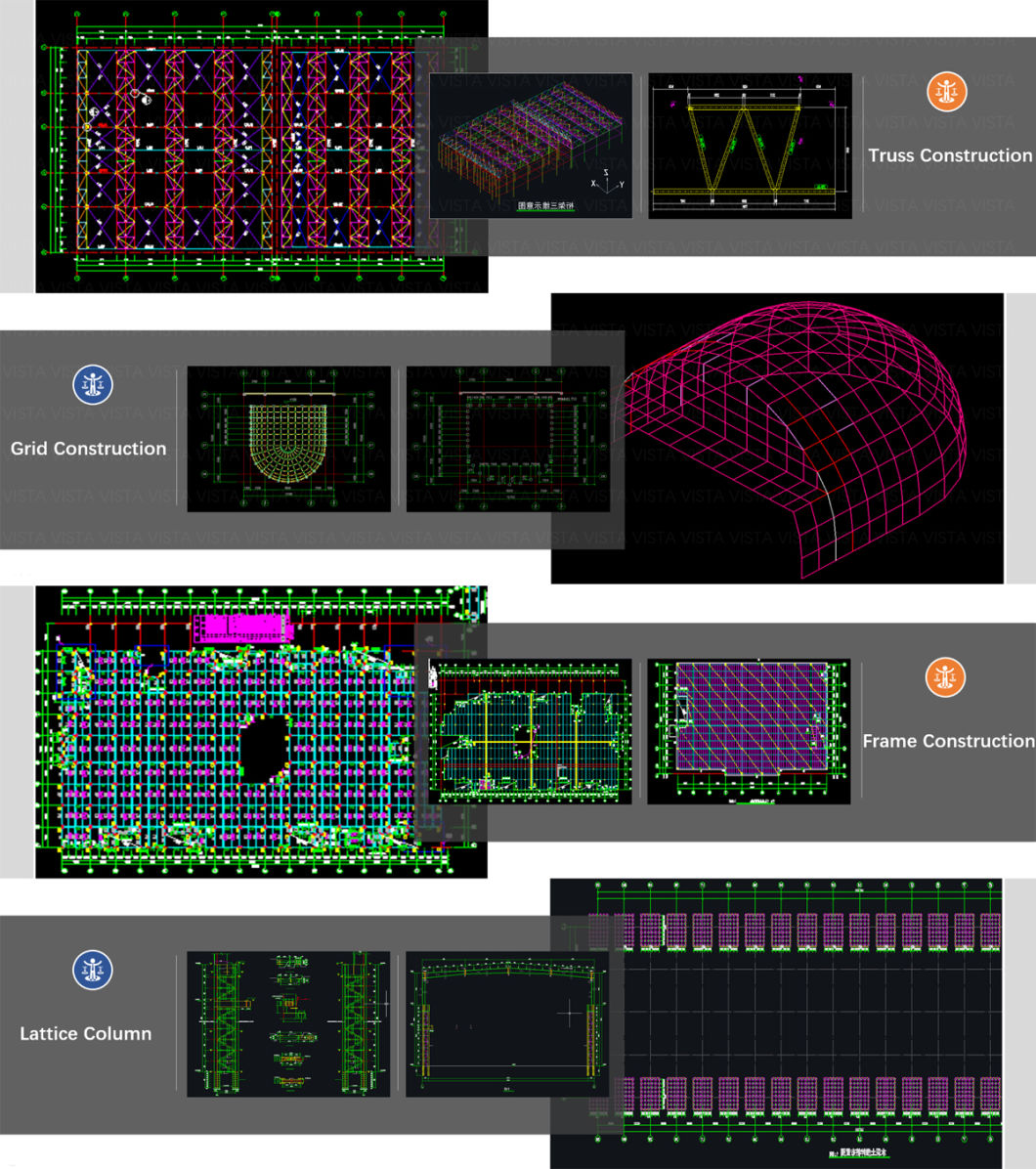 (5) Installation Process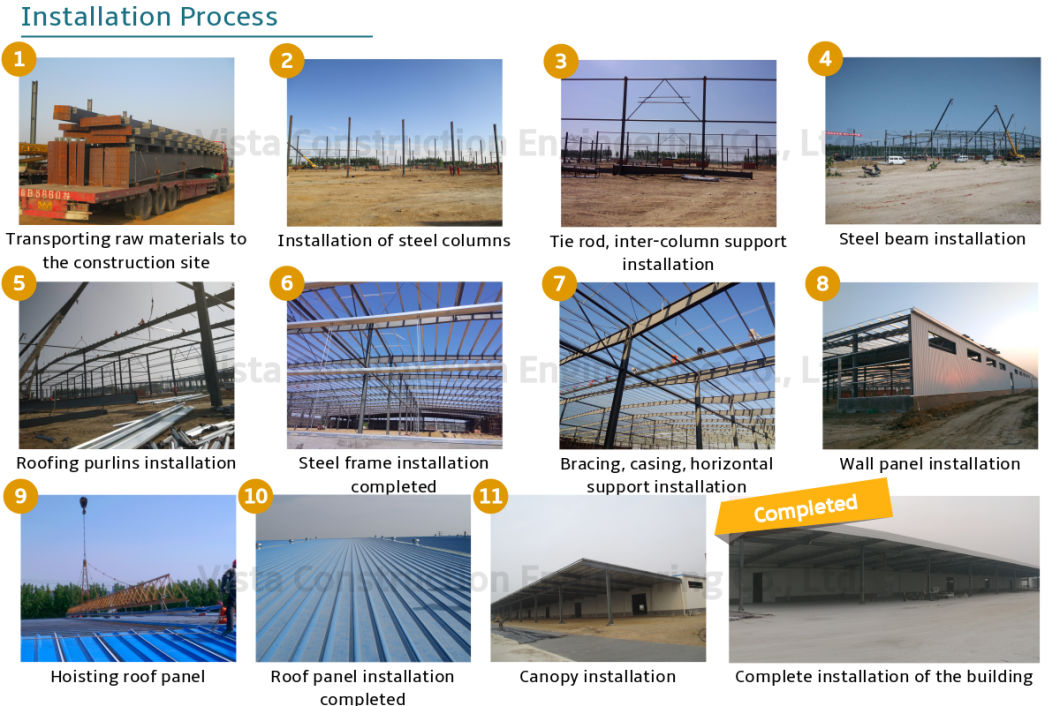 (6) Application
Industry: Workshop, Warehouse, And Other Industrial Facilities.
Commerce: Mall, Hotel, Exhibition Hall, Hospital, Office Building.
Public: The Social Activity Center, School, Library, Sports Stadium, Church, etc.
3. Steel Structure Process
3.1. Prepare Raw Materials
Cut Steel Plate Or Use Customized Size H Section Steel And Angle Steel, Round Tube, Round Steel, Square Tube, etc.
3.2. Assembly And Welding
Our Welders Will Follow The Drawings To Assemble The Steel Members And Weld Them Together As An Entire Beam/Column/Brace And So On;
(Our Quality Inspector Will Check The Steel Pieces After Finish Welding, This Is The First Quality Check)3.3. Sandblast
After Finish Welding And Polishing, Our Sandblast Effect Can Reach Internation 2.5 High Grade, Very Good For Resisting Rust;
(Secondary Quality Check)3.4. Paint
Within 2 Hours After Sandblasting, All The Steel Members Should Be Painted. A Client Can Choose Any Color And Any Brand Of Paint.
(The Third Quality Check)3.5. Inspect The Goods By Client
After We Finish A Part Of Fabrication Work, We Will Invite Clients To Check The Goods Before We Pack The Steel Frame.
3.6. Packing And Loading
If Clients Require Us To Load The Goods By Close Containers, We Will Pack The Steel Structure Members One By One On The Steel Skid And Tie The Whole Steel Package Well.
(The Fourth Quality Check )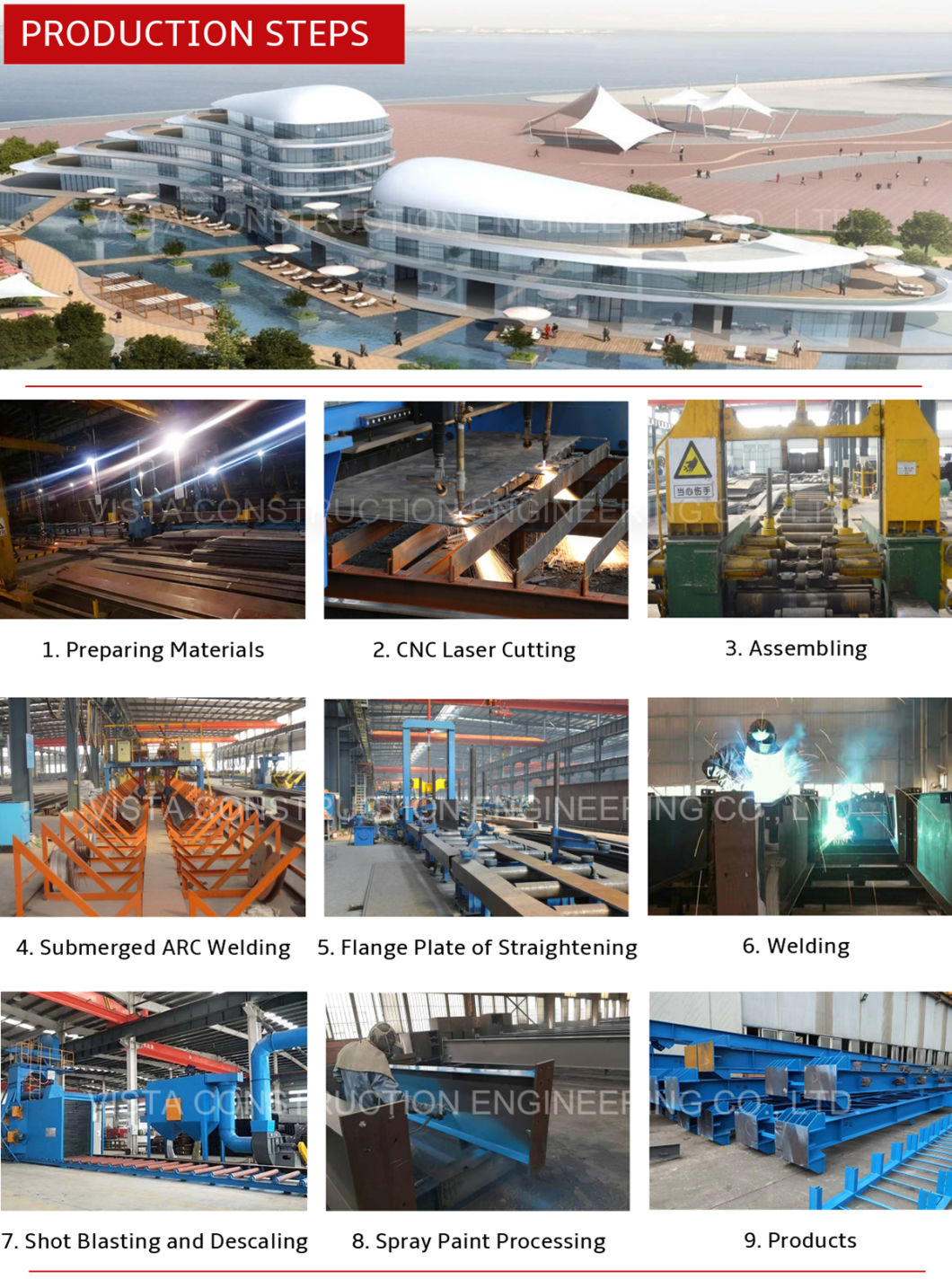 4.
Quality Control & Safety for Steel building
Quality is the hallmark of the products designed and manufactured by us.
We are an ISO 9001: 2000 certified company. Some of the quality practices followed by the company which has LED to continuous improvements in processes, procedures, and products are as follows:
1) All products meet the national and international standard requirements.
2) To ensure quality, all products are passed through stringent quality checks in all the stages of manufacturing.
3) Source of material is certified to ensure consistency in quality. Materials are procured from reputed suppliers and manufacturers and full traceability is maintained.
4) Well established in-house QA Laboratory to ensure quality in different stages of manufacturing. High-quality welding process and technology are used. Nondestructive testing on welding joints is carried out. Only branded and reputed consumables are used for manufacturing.
5) The project quality department ensures end-to-end quality for its buildings during execution and completion.
5. Market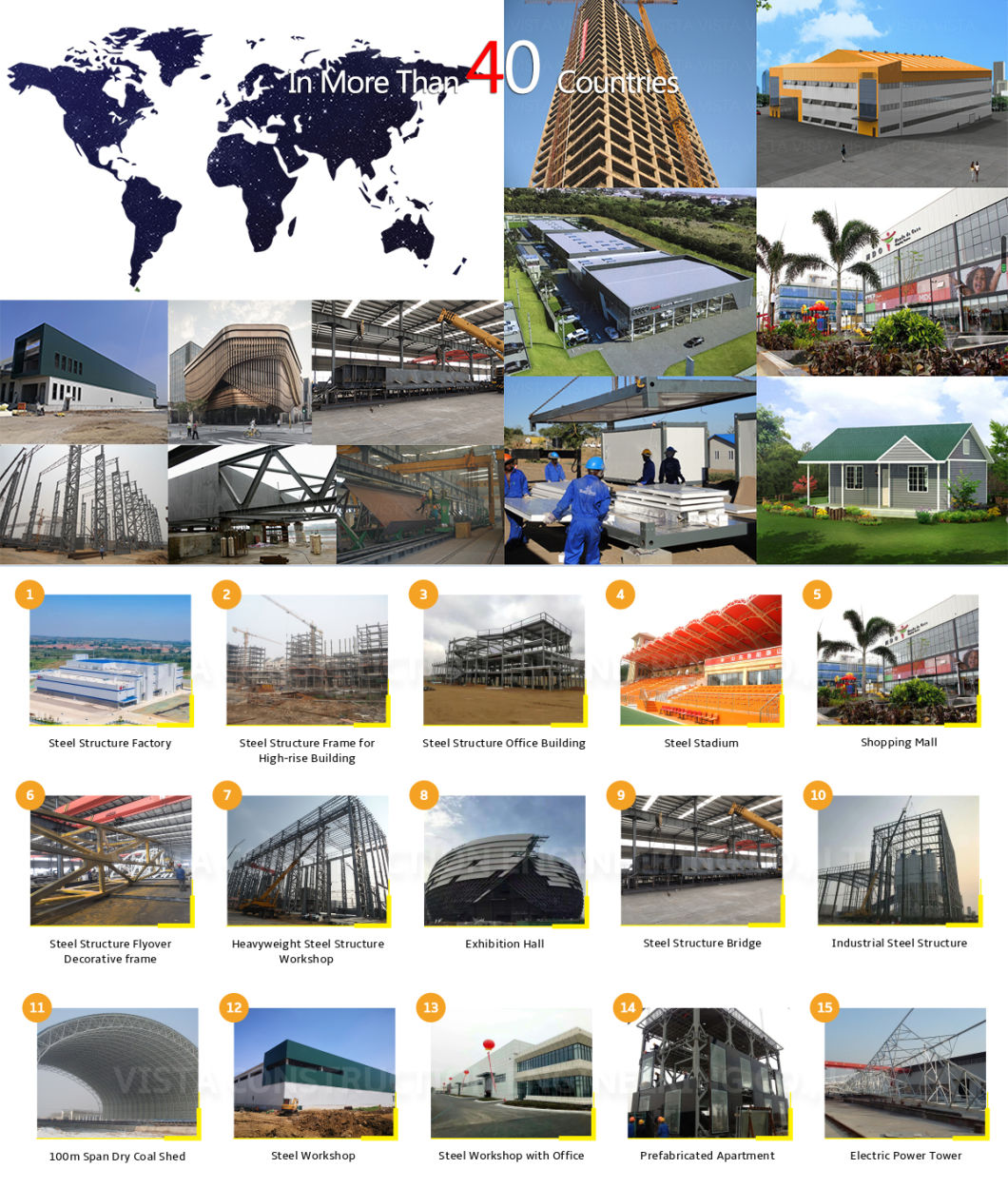 6. Our Service
6.1 Pre-Sale Service
Consultant Service(Answering Client's Questions)

Primary Design Plan(Free)

Assisting The Client To Choose A Suitable Construction Plan

Price Calculation

Business&Technology Discussion
6.2 Sale Service
Submission Of Support Reaction Data For Foundation

Submission Of The Construction Drawing

Providing Requirements For Embedding

Construction Manual

Fabrication&Packing

Delivery

Other Requirements By Clients
6.3 Training For Assembly
We Can Support You Full Training Service Of How To Construct And Assembly On-Site.

Solution 1: If You Have Your Own Construction Team With Engineers, Plumbers, Electricians, And Supervisors, We Can Support You 2 Professional Technician For The Necessary Assembly Training On-Site.

Solution 2: If You Don't Have A Construction Team, We Recommend You Employ Local Construction Workers For Assembly, We Can Support You All The Technician Engineer And Supervisor For Training And Construction Assist. But The Relevant Charges Will Be On Your Account.
6.4 After-Sale Service
Periodical Following-Up Our Client's Projects

Feedback And Good Communication

50 Years Warranty For VISTA Steel Frame
7. FAQ

7.1 What's The Quality Assurance You Provided And How Do You Control Quality?
Established A Procedure To Check Products At All Stages Of The Manufacturing Process - Raw Materials, In-Process Materials, Validated Or Tested Materials, Finished Goods, etc.

7.2 Do You Offer Guiding Installation On-Site Overseas For Warehouse Building?
Yes, We Can Provide The Service Of Installation, Supervision, And Training By Extra. We Can Send Our Professional Technical Engineer To Supervise Installation On-Site Overseas. They Have Succeeded In Many Countries, Such As Iraq, Dubai, South Africa, Algeria, Malawi, Thailand, And Ghana.

7.3 What Is Your Main Market?
Guided By Global Field Of Vision, Our Products Have Been Exported To Many Countries And Regions With Its Good Quality And Good Service, Such As France, UAE, South East Asia, Africa And So On. We Will Be Glad To Establish Sincere Business Cooperation With You In The Near Future.

7.4 How To Pack The Products?
We Use A Standard Package. If You Have Special Package Requirements, We Will Pack As Required, But The Fees Will Be Paid By Customers.

7.5 Can You Offer Designing Service?
Yes, We Have More Than 100 Design Engineers. We Could Design Full Solution Drawings As Per Your Requirements. They Use Software: Auto CAD, PKPM, MTS, 3D3S, Search, Tekla Structures(X steel)V12.0. etc.
8. Customized Design Is Welcome, It Would Be Better If
You Could Provide The Following Information:
1. Location (Where Will Be Built? ) _____Country, Area
2. Size: Length*Width*Height _____mm*_____mm*_____mm
3. Wind Load (Max. Wind Speed) _____Kn/M2, _____Km/H, _____M/S
4. Snow Load (Max. Snow Height) _____Kn/M2, _____mm
5. Anti-Earthquake _____Level
6. Brickwall Needed Or Not If Yes, 1.2m High Or 1.5m High
7. Thermal Insulation If Yes, EPS, Fiberglass Wool, Rockwool, PU Sandwich Panels Will Be Suggested; If Not, The Metal Steel Sheets Will Be Ok. The Cost Of The Latter Will Be Much Lower Than That Of The Former.
8. Door Quantity & Size _____Units, _____(Width)mm*_____(Height)mm
9. Window Quantity & Size _____Units, _____(Width)mm*_____(Height)mm
10. Crane Needed Or Not If Yes, _____Units, Max. Lifting Weight____Tons; Max. Lifting Height _____M
Welcome To Visit Our Factory, We Assure That Our Products Will Satisfy Your Needs With Designs, Competitive Performance Price Ratio, And Best Services.